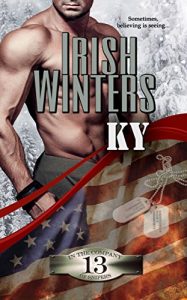 Steam: Steam Level 4
BOOK DESCRIPTION: Each book in this series is a complete story unto itself. There are no cliffhangers. I wouldn't do that to you. You can read them out of sequence. Enjoy!
TEAM Agent Ky Winchester survived a brutal encounter with a Taliban madman, but only because of a woman with green eyes, an angel he thought he'd dreamed in the depths of his torment. She came to him in that far off torture chamber, cloaked in the tender magic of hope. Because of her, he lasted long enough to survive his nightmare. It's too bad he never thought to ask her name. Too bad he'll spend the rest of his days searching for her.
Whoever she is…
FBI Agent Eden Stark is the Bureau's number one and very top-secret psychic asset. While running from a different kind of madman, this one intent on mechanizing America's military and turning them into controllable drones, Eden's plane goes down in the frigid Canadian north. It's very probable she won't survive the night. Two meched-up FBI agents are already tracking her. Maybe wolves.
Maybe someone else.
Get Ky (In the Company of Snipers Book 13) by Irish Winters at Amazon
Have you read this book or another by this author? Tell us about it in the comments!