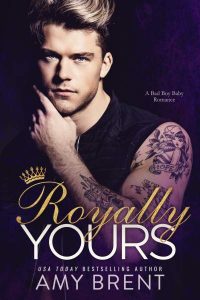 Steam/Violence Level: (Ranked from 1 to 5, as noted by the author): Steam Level 4
All I ever wanted was to be Prince. Until I met her.
Now I have to choose — her or my throne.
And the clock is ticking…
I'm a royal ladies' man. A British Prince with an appetite.
But my particular thirsts need to be kept secret.
Submission. Domination. These are my only addictions.
I can have any woman I want, but there's only one I crave.
Heidi. An American supermodel with curves to die for.
I want more than skin and bones under my hand,
And Heidi has it all. She begs… and I take.
But when our secret gets out, my family's not happy.
I want a royal wedding, they just want her gone.
Marry her, and I lose it all. No title. No money. No crown.
But I don't care about my title or my billions.
All I care about is Heidi and the child she's carrying.
Damn the throne. Heidi and her baby are mine.
And I always protect what's mine.
Have you read this book or another by this author? Tell us about it in the comments!
All information in this post was provided by the author and is not altered. We do this so that you the reader can decide to buy a book based on what the author says and how they present themselves and their book.