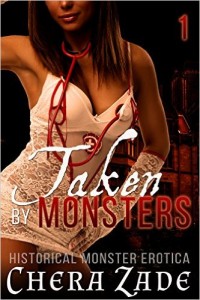 Steam:: Steam Level 5
"You will be the home for our seed."
After a public fall from grace, the duchess Lady Matilda Sandwell decides the best way to avoid attention is to hide out at a relaxing spa hidden away in the countryside during Halloween.
Enthralled by one of the three physicians who own the spa, Lady Matilda believes she's made the right choice. But there's more to the spa and the handsome doctor, and Lady Matilda realizes this far too late when her fertile body is taken hard and seeded by an aggressive monster.
Taken by Monsters #1 is part one of the complete Taken by Monsters series. It was previously written as another story and it's a fun, steamy short that's just in time for Halloween!
Taken by Monsters series:
Taken by Monsters #1
Taken by Monsters #2
Taken by Monsters #3
Get Taken by Monsters #1 at Amazon
What format is this book in? eBook
Have you read this book or another by this author? Tell us about it in the comments!