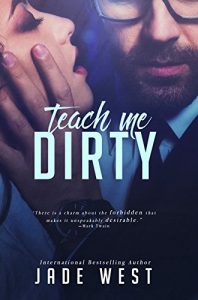 Steam: Steam Level 4
They tell me it's unhealthy, just a stupid crush. They tell me it's infatuation, and will never come to anything. Never mean anything.
Because what would I know, right?
I haven't even finished school. I'm just a silly little girl.
And no little girl should want the things I want from him.
No little girl should have the thoughts I have…
But they're wrong.
I really do love Mr Roberts.
I love Mr Roberts because he's the most amazing man, the most amazing artist, the most amazing teacher that could ever have existed.
And what if… just what if Mr Roberts wants me, too?
What if Mr Roberts really does want to Teach Me Dirty?
(Please note that the heroine is 18 years old)
For mature readers only.
Get Teach Me Dirty by Jade West at Amazon
Have you read this book or another by this author? Tell us about it in the comments!