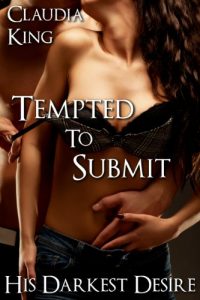 Steam: Steam Level 5
Aspiring journalist Nina can't believe her luck when world-renowned author Elliot Wolf offers her a job as his typist out of the blue. Unable to pass up the opportunity, she begins to work for the enigmatic Mr. Wolf, but soon realises that beneath the job offer lies a far darker desire.
Elliot Wolf likes to play games, and Nina is his latest toy. Is his interest in her superficial, or is there something genuine lingering beneath the surface? Whatever the case may be, Nina soon finds herself slipping into a dark sexual world beyond anything she has experienced before.
4800 word erotic short story featuring graphic descriptions of sex. Not for the faint of heart!
Also available in the kindle store are parts 2-9 of the series, along with the complete collection as a full novel.
Get Tempted to Submit: His Darkest Desire, Part 1 (BDSM Erotic Romance) by Claudia King at Amazon
Have you read this book or another by this author? Tell us about it in the comments!