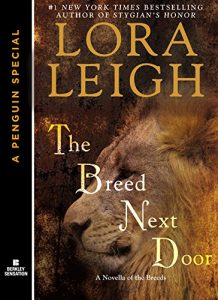 Steam: Steam Level 4
Danger and desire becomes one in a sensual novella of the Breeds, the "highly erotic saga" (Fresh Fiction) from the #1 New York Times bestselling author of Rule Breaker, Lawe's Justice and Stygian's Honor.
Lyra's neighbor can't be for real. A man who makes her hormones stand up and scream every time she sees him. And he's breaking through her reserve to invade her dreams at night.
But Tarek Jordan is even more than he seems. A Breed Enforcer with a plan. First, find the Council Trainer he's tracked to Fayetteville, Arkansas, and second, claim the woman next door as his own. She's fated to be his and his alone. He can feel it in his blood. Until the danger that has shadowed his life suddenly casts a darkness over Lyra's as well. Now Tarek knows that he can't wait any longer to claim the woman his heart and soul burns for. He has to tell her who he is, what he is, and what he wants. And Lyra will have to accept him as he is, on his terms, and now. Her life depends on it.
Get The Breed Next Door: A Novella of the Breeds by Lora Leigh at Amazon
Have you read this book or another by this author? Tell us about it in the comments!