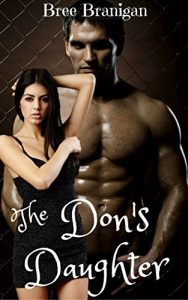 Steam Level: Steam Level 4
Category: Contemporary
About The Don's Daughter:
He's cocky, arrogant, and mouth-wateringly gorgeous. And now I'm his prisoner. When he looks at me through those dark, sexy eyes I'm dizzy with excitement. Do I want to be free?
She's a virgin for f*k sake.
Just collateral. I can play with her. Otherwise she's off limits.
But when she's writhing and begging and looking at me with those eyes
What am I to do?
Kidnapping her it was all business.
Holding her hostage til her father came through.
But the way she moves,
The way she looks at me…
The way she talks…
And then she goes and spoils it all.
I need her for my own!
Purchase Print Books
Buy The Don's Daughter Print Edition at Amazon
Links to Purchase eBooks
Link To Buy The Don's Daughter On Amazon

Disclaimer: All information for this book was submitted by the author and is presented as is so you get to know the author and their style. Prices are subject to change.