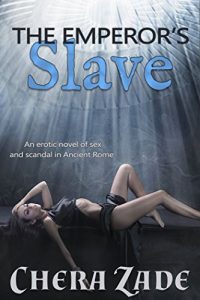 Steam: Steam Level 5
I've done it! I've saved the life of the great Emperor Caligula. Imagine me, a lowly servant-girl of just nineteen summers, bringing this mighty man back from the brink of the underworld?
He repays me as only a God-in-Earth can, by inviting me into his chamber. But I am still innocent. I know nothing of the world of sensual pleasure that awaits me behind his gilded doors. All I know is that beyond them lies the most powerful man in the world and his retinue of handsome soldiers, senators, and gladiators, all ready to torture and pleasure my body until I scream for release.
My hands are bound. I am ready to submit myself to Caligula. I am ready to become the vessel for his darkest and most deviant fantasies. I am ready to become the Emperor's Slave.
The Emperor's Slave is Chera Zade's first erotic novel, exploring the sexual exploits of the Roman Emperor Caligula and his court through the eyes of Arianna, his willing and obedient servant. This is a full-length standalone novel of approximately 70,000 words.
Get The Emperor's Slave by Chera Zade at Amazon
Have you read this book or another by this author? Tell us about it in the comments!