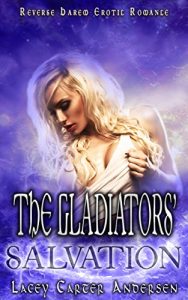 Steam: Steam Level 5
Lana has one night to pleasure twelve gladiators. If they aren't fully satisfied, the consequences will be brutal…
Her night was filled with late night visitors, and experiences she never imagined, even in her darkest fantasies. These warriors know how to touch her, and they're doing their best to make sure her first time with them is like no other.
Because no matter what, protecting her has become their number one priority.
They told her that the safest place she can be is in their arms—and they were right. As Lana's world changes yet again, she'll be thankful for the men who would die to keep her safe. But what if even sacrificing their lives is not enough? What if Lana must protect them in a way she never imagined she could?
~ The love story of one woman and her gladiators begins a little dark, but evolves into a romance like no other. It is roughly 5,000 words.
Get The Gladiators' Salvation (Warriors of Rome Book 3) by Lacey Carter Andersen at Amazon
Have you read this book or another by this author? Tell us about it in the comments!