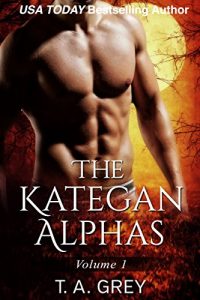 Steam: Steam Level 5
From a USA TODAY Bestselling Author: Read the first three books in the sexy & delightful Kategan Alphas series with this action-packed bundle. These hot romances will keep the pages flying in three fun-filled, smoking-hot books that have it all: a tight-knit family, new love, healing, humor, and plenty of suspense and action. Read to see why nearly one million copies of T. A. Grey's spicy romances have been sold and watch as the "paranormal" meets "contemporary" in this addicting series.
MATING CYCLE (Book One)
Each year lykaen princess Sarina Brunes goes through her mating cycle—a powerful force that makes the desire to mate nearly inescapable. When Sarina is sent away by her father to endure the mating cycle alone, she never expects a sexy Alpha to come to her doorstep.
When Alpha Vane Kategan stumbles upon Sarina in the midsts of her cycle, he is determined to help her, if only to ease her pain. However, she denies them both what they so desperately want. But Vane won't give up on his seduction until they both find bliss. What neither of them count on is falling in love.
Right when they need each other the most, they are torn apart by her father's cruelty. Now Sarina must fight to be with the one she loves and risk losing the only family she has left in the process. Can Sarina escape her father's grasp for the arms of the man she loves?
DARK AWAKENING (Book Two)
Once a vibrant woman, Alison Bennson suffered a terrible trauma at the hands of her ex. When her ex crashes back into her life with terrifying consequences, Alison must turn to the Kategans for help. Rome Kategan has been a haunting thought in Alison's mind ever since she met the grinning rogue. If only she was the woman she used to be she could relax and enjoy the handsome male with the winsome smile and easy humor, but instead she is haunted by the past and fearful for the future. With a past like hers, it's easy to see why. Fraught with pain, the emergence of her violent ex could only spell one thing for Alison–death. But Rome Kategan swears to protect Alison with a passionate vow that frightens Alison almost more than her past. Can she heal and accept new love and the opportunities it brings forth?
WICKED SURRENDER (Book Three)
The sight of her happily mated brothers has Vera biting her nails in frustration. When the opportunity arises for her to get away from it all she takes it—with one catch—Jackson Marsh. Jackson Marsh has been a pain in her rear-end from the moment she laid eyes on human soldier. In order to repair his broken trust with her brother Rome, Jackson "Jacks" Marsh has agreed to accompany Vera as she heads into enemy vampire territory to negotiate a treaty between the Kategan Pack and the vampires.
The change of scenery doesn't do anything to help Vera's mood for there was one thing she didn't think about when she came up with her brilliant plan—seeing her ex vampire lover. Now with her ex vying for her affections again and Jackson sending her heart and mind through a loop, Vera must decide who she wants. But with a heart that's never properly healed, this won't be an easy decision to make. In the midst of all the chaos, a vampire clan is threatening to take Kategan land. Together Vera and Jackson must fight to save Kategan land while trying to save each other from falling in love.
Download The Kategan Alphas Vol. 1, books 1-3, to read a sizzling, interconnected romance series filled with everything you could want: fighting, action, adventure, humorous banter, and a white-hot connection that cannot be denied between these true life mates.
Get The Kategan Alphas Vol. 1 (Mating Cycle, Dark Awakening, and Wicked Surrender, Books 1-3) by T. A. Grey at Amazon
Have you read this book or another by this author? Tell us about it in the comments!