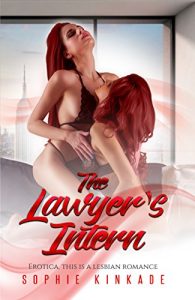 Steam: Steam Level 5
A sexy lawyer joins her girlfriends out for a night of fun.
Laura McBride joins her two best friends out for a night of fun. Her friends convinced her to indulge in a Friday night ladies night out. To her surprise, they ended up at the exclusive burlesque called The Kitten Club Laura had a little too much to drink and the sexually charged atmosphere lowered her inhibitions, she was entranced by the sexy performer on stage. Laura's friends noticed she couldn't take her eyes off the dancer on stage. Amy, the most adventurous of the group solicited a private dance for Laura. A private booth was secured and to her surprise, it was the dancer she admired on stage that would entertain her.
What would you do if one of your most exciting nights out ended with you in the arms of a stranger?
Find out what happens next with Laura's sexy, fun night out.
The Lawyer's Intern is a 4200 word sexy Lawyer short story romance, creamy, oral, toys, steamy lesbian Milf, erotic adventure.
With an HEA ending.
Get The Lawyer's Intern by Sophie Kinkade at Amazon
Have you read this book or another by this author? Tell us about it in the comments!