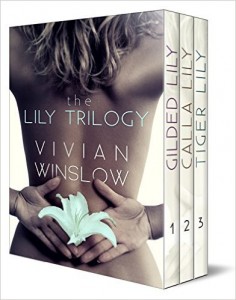 Steam:: Steam Level 4
THE COMPLETE LILY TRILOGY OF THE GILDED FLOWER TRILOGIES — Contains all three books: Gilded Lily, Calla Lily, and Tiger Lily.
"THIS trilogy made my Summer! It was a perfect, erotic and exotic escape . . . Whether you're stuck at home working this summer or out on vacation AT a beach, this is a perfect, steamy, page-turning read! 5 stars!" – Booknatics
". . . perfect read if you are looking for something short, fun, hot, and steamy. I have enjoyed the Gilded Flower series and I am hooked." – Book Happiness
"This series is a must read and is a great contender for the Brit Nanny Reads Best Reads 2014!" – Brit Nanny Reads
Gilded Lily (Book 1)- After catching her fiancé Jack in bed with her sister the day before her wedding, New York socialite Lily Baron escapes to Rio, her honeymoon destination—alone. There, Marcelo, the dark and sexy hotel masseur, releases a heated passion Lily had never experienced with Jack. When Lily meets handsome and powerful Brazillionaire Gustavo de Lima, she can hardly resist him. There's just one problem. He's married. In this uber-sensual city, will Lily's reluctance to be with a married man, in light of her own fiancé's betrayal, give way to her burning desire for Gustavo?
Calla Lily (Book 2) – Having experienced a profound personal and sexual awakening during her solo honeymoon to Brazil, New York socialite Lily Baron rushes back to New York upon hearing the news that her father has fallen ill. Now, Lily must take the helm of the Baron Media empire and fend off a high-stakes hostile takeover attempt. With the fate of the company hanging in the balance, will Lily be able to resist the advances of the luring, unwanted suitor in the boardroom as well as the bedroom? Things get steamy in this highly anticipated sequel to Gilded Lily.
Tiger Lily (Book 3) – Weary from battling a hostile takeover attempt of her family's company, Lily seeks a distraction in Todd, an erstwhile bartender with a large trust fund and magical tongue. Meanwhile, a connection seems to be developing between Lily and Alejandro, a wealthy and gorgeous Cuban-American, whose brother, Rodrigo, is dating Lily's twin sister, Dahlia. When Alejandro unexpectedly rebuffs Lily one night, she is deeply dismayed. But, after seeing Alejandro's picture with a gorgeous Latina model in the gossip pages, Lily thinks it wasn't just a misunderstanding. When the sisters and brothers reunite in Aspen for a ski weekend, will Lily's heart remain frozen or will the fire between her and Alejandro rekindle and melt away the ice?
DON'T MISS THE DAHLIA TRILOGY OF THE GILDED FLOWER SERIES. ALL THREE BOOKS (BLUE DAHLIA, BLACK DAHLIA AND RED DAHLIA) NOW AVAILABLE.
ALSO AVAILABLE – ALL THREE BOOKS OF THE VIOLET TRILOGY OF THE GILDED FLOWER SERIES (WILD VIOLET, HIDDEN VIOLET, AND TRUE VIOLET).
EDITORIAL COMMENTS ABOUT THE LILY TRILOGY
"Vivian has the ability to grab you and pull you in with her writing, and I found that once I started reading, I couldn't stop until the story was done." – Deliciously Wicked
". . . these novellas are a really cool way to relax and perfect for a steamy read at the beach." – Illusionary Pleasure
"A sexy read that gets the blood pumping!" – Kirstie's Passionate about Reading
"If you're looking for an erotic series you can become obsessed with this one is for you!!" – SBM Book Obsession
"Never a dull or boring moment . . . . The writing style was captivating and had me hooked to this story, that I couldn't stop reading." – Seraphim Book Reviews
". . . erotica at its finest!" – Stephanie's Book Reports
"Perfect, sexy and light beach read." – Talkbooks
". . . when I say steamy I mean DAMN IT IS HOT!!" – We Stole Your Book Boyfriend
Get The Lily Trilogy at Amazon
What format is this book in? eBook
Have you read this book or another by this author? Tell us about it in the comments!