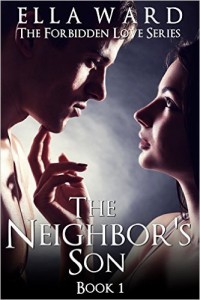 Steam:: Steam Level 4
**This is book 1 of a 4-part series called The Forbidden Love Series.
When high school teacher Sidney McDougal swung her front door open that Saturday morning, she expected to find a door-to-door salesman or a Jehovah witness standing on the other side of it. Instead, she found Cade Fisher, a devastatingly handsome handyman who instantly becomes her greatest obsession and the subject of her raunchiest fantasies and dreams.
Nothing wrong with a little fantasy, right? Wrong. Even though Cade exudes confidence and maturity, he is barely out of high school. That, and his mother lives just down the street from Sidney who is 32 and getting over a painful divorce. Sidney knows that getting involved with Cade would be a huge mistake. She is able to fight temptation…until the neighbor's son ends up naked in her pool..
***Excerpt***
He gave me one final questioning look before spinning on his heel and heading for the front door. While staring at the back of his head, I felt overcome with sadness. I knew that once he walked out of that door, I was never going to see him again. But something happened. Something made him freeze when he reached the door. He gripped the handle but wouldn't turn it. He just stood there, staring at his feet for a few long seconds before jerking his body around toward me.
"You know what, Sidney? I lied. I'm not sorry I kissed you this morning in the pool." He took a couple of long steps and suddenly he was hovering over me. I gulped down a breath, too startled to move or speak. He had his hands in fists and I wasn't sure if he was about to shake me or kiss me. The volume and the harshness in his voice went up another notch.
"I enjoyed the crap out of that kiss and I know you enjoyed it too. And if I had to do it all over again, I would."
"Please. Lower your voice, Cade," I whispered.
"No, Sidney. I will not lower my voice. I will not keep it down," he snapped, gripping my shoulders and drawing me into his body. "That's all I've been doing since the day I met you. I'm tired of keeping it down. I'm sick of pretending I don't have these feelings for you. I'm done pretending and I don't give a damn what people think or say."
His hands slid down my arms and moved to circle my waist. "I haven't been able to get you out of my head since the day I met you. I walk up and down the block several times a day trying to get a glimpse of you going to work or picking up your mail. I know that sounds a little stalkerish but I can't help it. You have gotten under my skin, Sidney. I can't get over you. I don't want to get over you. I thought you were married. That's the only reason I kept my feelings to myself and chose to admire you from afar. But now that I know you don't belong to anyone, there's no way I'm letting anyone or anything keep me away from you."
Also Available in The Forbidden Love Series:
The Neighbor's Son 2: Mind Games
The Neighbor's Son 3: Dark Before Dawn
The Neighbor's Son 4: Stay with Me
Get The Neighbor's Son at Amazon
Get The Neighbor's Son at Barnes and Noble
What format is this book in? eBook
Have you read this book or another by this author? Tell us about it in the comments!