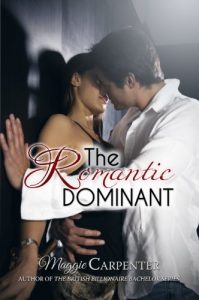 Steam: Steam Level 5
UNEXPECTED EVIL. SUSPENSE. DEVOTION.
Zander Davis has a passion for romance. He craves a woman to cherish and protect, and when he meets an exotic beauty from Brazil, he discovers she is the lace to his leather. He is absolutely smitten.
Gabriela has been searching for a special man will fulfill her dark desires. She is instantly drawn to Zander's compelling presence, but just as their relationship takes hold she is called home to care for her ailing mother. Not knowing for how long she'll be gone she insists he move on.
Though he tries to do as she asked, Gabriela's image continues to linger, and as time ticks by with no word from her, he can't shake the feeling that something is wrong.
THE ROMANTIC DOMINANT is a love story with good and evil, suspense and heroism. Let yourself get swept away in this fast-paced, sometimes dark, sometimes frightening tale.
Get The Romantic Dominant by Maggie Carpenter at Amazon
Have you read this book or another by this author? Tell us about it in the comments!