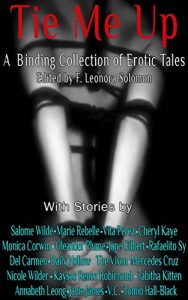 Steam: Steam Level 5
B is for bondage in BDSM, and Tie Me Up is the perfect place to explore just that.
The 19 stories in this anthology do not fetishize bondage. Instead, Tie Me Up shows how couples explore it as a sexy romantic option–sexy underscored!
New and seasoned authors fill this anthology with steamy tales that will keep you tied up…unable to put this collection down!
Stories by
Salome Wilde * Marie Rebelle * Vita Perez * Cheryl Kaye * Monica Corwin * Oleander Plume * Jane Gilbert * Rafaelito Sy * Del Carmen * Daily Hollow * The Vixen * Mercedes Cruz * Nicole wilder * Kaysee Renee Robichaud * Tabitha Kitten * Annabeth Leong * Janie James * V.C. * Tomio Hall-Black
Get Tie Me Up: A Binding Collection of Erotic Tales by F. Leonora Solomon at Amazon
Have you read this book or another by this author? Tell us about it in the comments!