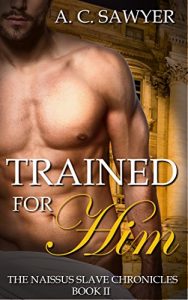 Steam: Steam Level 5
Aries is a new edition to Lord Domitius' home, a newly-caught pleasure slave with a chance to gain the honored position of Master's "Pet". After a couple luxurious days alone pleasuring his Master, Aries is left in the care of the handsome and striking head slave Magnus for his pleasure slave training.
Striving to do well and earn his position, Aries must complete various sensual and tormenting tasks by Magnus' kind but strict hand. Aries is bound in a chastity device and made to endure every lesson Magnus has in store for him. His Master returns from his duties hungry to test out what Aries has learned, and to reward him handsomely if he performs as desired.
Trained for Him is an erotic M/M BDSM story set in the Grecco-Roman fantasy setting of the Naissus Empire. No cliffhanger, HEA.
Get Trained for Him (The Naissus Slave Chronicles Book 2) by A. C. Sawyer at Amazon
Have you read this book or another by this author? Tell us about it in the comments!