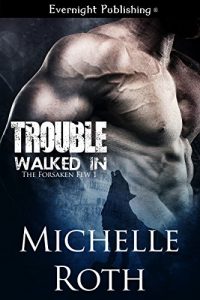 Steam: Steam Level 4
The moment Moira Devereaux walks into his bar, shapeshifter Ronan Kelly knows she's going to be trouble. No matter how tempting she is, he won't risk the safety of his makeshift pack. He has every intention of sending her on her way until he hears her compelling story.
When Moira's father, the mayor of Lorelei, tries to force her to wed a man she doesn't know, she runs to the one place he won't follow. The local shifter bar. Nothing could have prepared her for the immediate attraction she feels for the owner, Ronan.
In a moment of weakness, Ronan offers her a job and a place to stay despite his misgivings. No one is more shocked than he is when he discovers that she's his mate. Will he be able to convince her that he's worth taking a risk on or will he be forced to let her go?
Get Trouble Walked In (The Forsaken Few Book 1) by Michelle Roth at Amazon
Have you read this book or another by this author? Tell us about it in the comments!