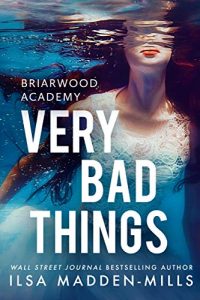 Steam: Steam Level 4
"He's my Romeo, but I'm not his Juliet."
Everyone thinks Nora Blakely is perfect. And why wouldn't they? Valedictorian of her class and a Texas beauty queen, she's well on her way to Princeton after kissing everyone goodbye at graduation.
Until the day she cracks wide open in front of the entire school.
Leo Tate is a tattooed bad boy who's sworn to never fall in love, especially with a high school girl.
But she keeps showing up at his gym, wearing short skirts and tempting him with her list of bad things.
He wants to resist her, but with one touch of her lips, forbidden love has never tasted so sweet.
Welcome to Briarwood Academy . . . where sometimes, the best things in life are Very Bad Things.
*Mature Content*
*Author's note: Each book in the BW series is written as a stand-alone love story following a new couple, but you'll enjoy reading the other titles and seeing familiar faces return.
Get Very Bad Things (Briarwood Academy Book 1) by Ilsa Madden-Mills at Amazon
Get Audiobook
Have you read this book or another by this author? Tell us about it in the comments!