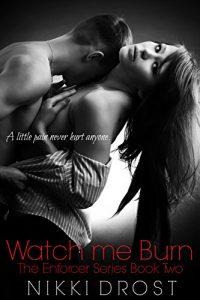 Steam: Steam Level 4
Jamie Trudeau is Westhaven's newest shape shifting bad boy. With his trademark Mohawk, ink covered body, and arrogant smile, women seem to drop at his feet. That is, except for the one that he wants. As an Enforcer and a member of the Four Horsemen of Apocalypse, Jamie overcomes every obstacle that is thrown his way. With the power to manipulate fire and electricity, there isn't an enemy alive that he cannot defeat. But what happens when his worst fear comes to pass? Will it be too much for the werewolf to handle?
Kelsey Collins is your typical rich girl who enjoys shoes, booze, and boys with tattoos. She never lets anything get in between her and what she wants and Jamie Trudeau is her newest desire. The shifter is everything that she has ever wanted in a man and she won't stop until he is hers. But when she is faced with a life altering decision will Kelsey chose her dream man or the one thing that will drive the two of them apart for good?
With a new threat looming over Jamie and his fellow Enforcers, they must do everything they can to protect those they hold dear, even if that means working with new allies. Enemies come in all forms, and some are too close for comfort.
Get Watch Me Burn (The Enforcer Series Book 2) by Nikki Drost at Amazon This book is part of a series
Have you read this book or another by this author? Tell us about it in the comments!