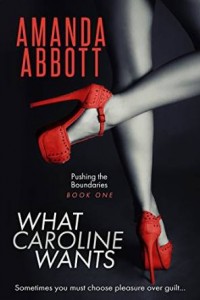 Steam:: Steam Level 4
Caroline and Jason Stratton have always been hot for each other. Married right out of college, they've had a great sex life. But when they discover that their best friends and neighbors, Piper and Michael Collins, have experimented with a few extracurricular adventures during their ten year marriage, Caroline and Jace's sexual world is rocked. The Strattons quickly find that inviting others into their bedroom might be something they want to explore. But getting Caroline to reconcile her Southern guilt is another matter altogether. So they decide to take it deliciously slow, exploring every avenue.
Their adventures lead them to Emma and Pete, and after a fun, sexy dinner date out, and an incredibly hot car ride home, they're in. But once they decide to scale that mountain, all bets are off. In the end, Caroline must make a decision–and it's one she'll have to live with forever.
*This book is ridiculously sexy, filled with high-octane moments between the couple as they figure out what makes them tick. The book contains: explicit sex, voyeurism, and light couple swap. **There is no cheating in any of my books, everything is consensual between all participants.
This book will be free.
Get What Caroline Wants at Amazon
Get What Caroline Wants at Barnes and Noble
What format is this book in? eBook, Print Book
Have you read this book or another by this author? Tell us about it in the comments!