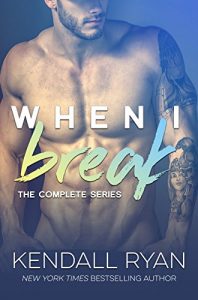 Steam: Steam Level 4
*Complete trilogy containing all 3 books in the When I Break series*
Fighting to fill the emptiness inside himself, Knox seeks solace in unfamiliar beds with unfamiliar women. As guardian to his three younger brothers, this can't go on…they look up to him in every way and all he's done lately is prove how messed up he really is. Needing a change, he attends a local Sex Addicts Anonymous meeting, where he finds himself tempted by the alluring instructor, McKenna.
With her newly acquired degree in counseling, McKenna begins leading a sex addicts group where she meets the troubled Knox and her life takes on complications she never bargained for. She doesn't have time for a bad boy who only wants to take her to bed, even if her body disagrees. The fixer in her wants to help, but trusting Knox's true motivations might take more courage than she has.
Get When I Break Complete Series by Kendall Ryan at Amazon
Have you read this book or another by this author? Tell us about it in the comments!