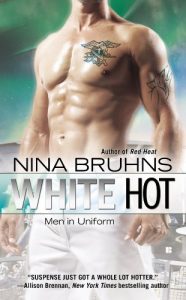 Steam: Steam Level 4
From New York Times and USA Today bestselling
author NINA BRUHNS comes a steamy new high-stakes romantic thriller of uncontrollable desire and danger…
Overview of White Hot:
U.S. Navy Lieutenant Commander Clint Walker is on the run across the icy Alaskan Bering Sea from Chinese operatives who'll do anything to retrieve the stolen military plans in Clint's possession–and to kill him for their trouble. Desperate to safeguard the intell, he stows away aboard a cargo ship–and comes face to face with the most enticing ship's captain he's ever seen… For the first time ever, he's sorely tempted to put his mission on hold…for just a few hours. What could it hurt?
Captain Samantha Richardson won't let anything–or anyone–stand in the way of her career. Especially now, with her whole future riding on this single shipment. Sam has a firm rule about not fraternizing onboard ship, but the sight of her brash stowaway's enticing bedroom eyes and his hard, muscular body has Sam fantasizing about indulging in a small indiscretion, just this once. After all, sexy Clint Walker is her ideal man: hot, intriguing, and conveniently temporary.
But when Clint and Sam give in to their simmering passion, they awaken to face an exploding danger and lethal situation that threatens to put an all too permanent end to their blossoming feelings . . . as well as their lives.
Get White Hot (Men in Uniform Book 2) by Nina Bruhns at Amazon
Have you read this book or another by this author? Tell us about it in the comments!