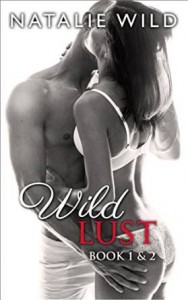 Steam:: Steam Level 5
Presented for the first time as a Special Edition are Books One and Two of Natalie Wild's Bestselling series, 'Wild Lust'.
Jessa's friend organises a solo trip for her on what she thinks is a run-of-the-mill singles cruise for a few days of cocktails, relaxation and flirting, when she learns what she is really boarding is a themed cruise ship – a boat devoted entirely to the sensual pleasures of single men and women. Jessa is initially furious at her friend but when she finds herself ritualistically bound to a hot dominating man for the night, she's unsure whether to resist him or become the submissive he's been searching for. Will Jessa stand firm, or willingly relent to the tantalising delights this new world offers?
This ebook contains very hot and explicit descriptions of romantic activity. Only mature readers should download this book.
Get Wild Lust Book One & Two: Special Edition at Amazon
Get Wild Lust Book One & Two: Special Edition at Barnes and Noble
What format is this book in? eBook
Have you read this book or another by this author? Tell us about it in the comments!