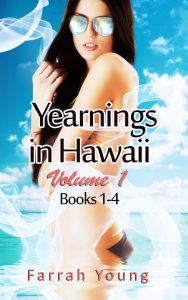 Steam Level: Steam Level 4
Category: Erotic Romance
About Yearnings in Hawaii Volume 1 Books 1-4:
Marianne Lee repressed her desire to love a man to support her parents at work and at home. A decade later, her parents no longer require her assistance so she is free to live independently. And in her soul, she knows she needs to leave her home to experience romantic love to satisfy her own yearnings.
In her quest to find a soulmate, Mari will embark on an erotic journey that begins in Kauai, Hawaii to fall into a love triangle between two exceptional lovers. Who will be the best man for her heart and soul, the Adonis, Phillip Peters or the man who resembles an island god, Tyler Lange? Or could her true partner be someone from her childhood?
Mari's secret desires must be explored, exposed, embraced and endeared to subdue her restless nights from lust filled dreams.
Purchase Print Books
Buy Yearnings in Hawaii Volume 1 Books 1-4 Print Edition at Amazon
Links to Purchase eBooks
Link To Buy Yearnings in Hawaii Volume 1 Books 1-4 On Amazon

Disclaimer: All information for this book was submitted by the author and is presented as is so you get to know the author and their style. Prices are subject to change.