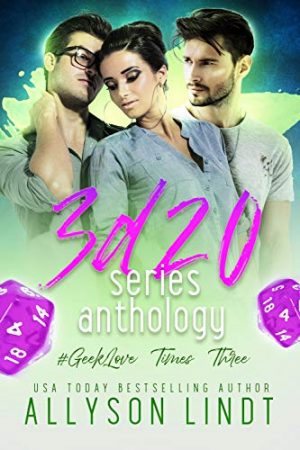 Steam: Steam Level 5
Four scorching, geeky ménage novellas, one collection
Roll Against Trust
Tasha's not looking for love, but she doesn't mind just looking… and maybe a little fantasizing about her two best friends and weekend AD&D buddies.
Roll Against Regret
Zoe's broadened her horizons since she hooked up with Jackson, but their latest shared fantasy beats all others.
Roll Against Discovery
When Evan and Trevor offer to keep Kathryn company during an anime convention, she's not letting her shy self screw up the opportunity.
Roll Against Betrayal
Sydney can't believe how incredible the hottie she meets at the convention is. When she realizes he's her ex's roommate, she realizes she's not as lucky as she thought. Could the three of them have a future, or are things over before they start?
Publisher's Note: These are the same books available individually in the 3d20 series.
Get 3d20 Series Anthology (GeekLove Times Three Book 1) by Allyson Lindt at Amazon
Have you read this book or another by this author? Tell us about it in the comments!