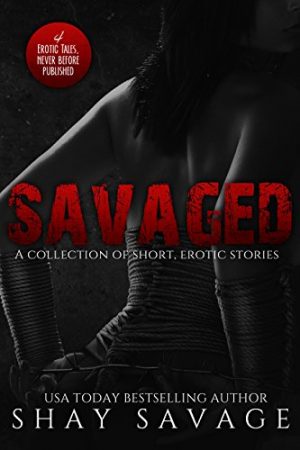 Steam: Steam Level 4
Four tales never before published by USA Today bestselling author Shay Savage.
An executive in need of some temporary release. A Dom looking to cleanse his soul. A twisted college encounter. A PA and a terrorist's unlikely meeting during an office building takeover. Four alpha males just waiting to fulfill your fantasies in these hot short stories.
Are you ready to be Savaged?
Includes:
Same Time Tomorrow: Executive Julian Reddick is tired of his brand of hand lotion but doesn't have time to date. What's the solution? Call in a "nooner" from a high-class company of ill-repute. Valerie Woods is exactly the distraction he needs.
Cleansing Bonds: A Dom who had hurt the one he loved and an abused sub looking for release. Both are sure they will never be able to find what they need, but they find healing with each other.
Encounter: On a weekend night near campus, a college girl walks home alone from the local bar. Who is watching her from the shadows, waiting to take advantage of the situation?
Want No More: Olivia's new job takes an unexpected turn when terrorists take over her office building. Olivia is taken hostage, but Adam, the sexy head henchman, seems to be exactly what Olivia desires.
Get Savaged by Shay Savage at Amazon
Have you read this book or another by this author? Tell us about it in the comments!