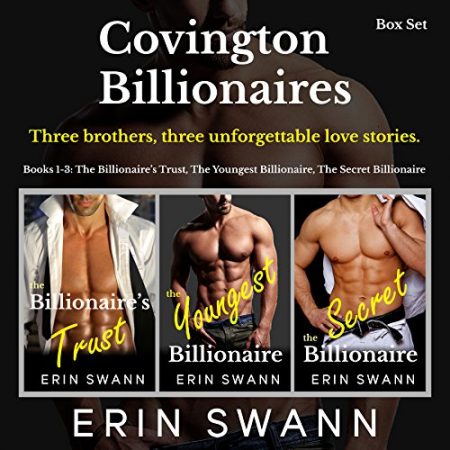 Steam: Steam Level 5
Three brothers, three delightfully sinful stories.
Contains: The Billionaire's Trust, The Youngest Billionaire, The Secret Billionaire
THE BILLIONAIRE'S TRUST
He answered the door in just a bathrobe. When I told him why I was there, he dropped it to the floor…
Bill:
I keep things simple with the women I meet. Charm her, enjoy her, discard her, and repeat. Once she hears my family name her focus is on the size of my wallet and she can't be trusted.
Until Lauren shows up at my doorstep one night and I am suddenly in charge of the family company. I need to save the family legacy and ten thousand jobs. I can't do it without her. She's beautiful, sassy, brilliant, and brutally honest.
She can't stand me.
I need her. In my bed, in my life, as my wife. Everything's going according to plan . . . Until, she disappears.
Lauren:
I fell for him as soon as I saw him last week, all of him, the full package.
Until, he sent me back to his condo to get rid of the girl–the naked one in his bed. He didn't even know her name.
Today he's the new CEO, and he's screwing up. Royally. I told him what I thought of him.
Again.
Now, he won't take no for an answer. When he makes a fairy tale proposal in front of hundreds, I can't say no. Together we have a plan to save the company.
But he's keeping secrets, and I uncover the worst one.
THE YOUNGEST BILLIONAIRE
Lawyers ruined her life once before. Now, his law firm is blocking justice for her family. Will love bridge the gap or will rules destroy them both?
Steven is determined to fulfill his promise to his father and become a rarity, an honest lawyer. Tired of taking orders from his older brothers, he has avoided joining the family business to make a career of helping the little guy. Just out of law school, his family's money can't buy him the one thing he needs now, a recommendation to the Bar from his witch of a boss.
Finding her family's stolen painting has been Emma's years-long mission. Working at the local museum, art is her whole world. Her quest to find the missing painting is nearly complete when she runs into a final legal barrier. Lawyers destroyed her life once before, and they are the problem again. She agrees with Shakespeare: first, we kill all the lawyers.
When Steven rescues Emma from her worst blind date yet, avoiding him becomes impossible. Resisting him becomes futile. Then, she learns he works for the law firm preventing her from recovering the priceless painting. When his boss discovers their connection, will she seal both their fates?
He doesn't suspect that pursuing her could ruin his career. She doesn't realize what trusting him could cost her.
THE SECRET BILLIONAIRE
He whispered in my ear. Three simple words halted all rational thought…
Patrick:
Women naturally circle the flame of wealth and power, and mine is brighter than most. Does she love me, does she not? There's no way to know. They're all faking something.
When I stopped to help her, Liz mistook me for a carpenter. Maybe this time I'll know.
She resisted me, but it was pointless. I was determined to make her mine.
Everything was perfect.
Until the day she left.
Elizabeth:
He helped me rescue the dog. Simple right? But, nothing about Pat was simple.
It was just a fake kiss. At least that's how it started.
The burger wasn't really a date, was it?
When my car wouldn't start, he offered me a ride but said it would cost me a real date.
I had no idea where that ride would take me.
Get Covington Billionaires: Books 1-3 (Covington Romance Box Sets Book 1) by Erin Swann at Amazon
Have you read this book or another by this author? Tell us about it in the comments!