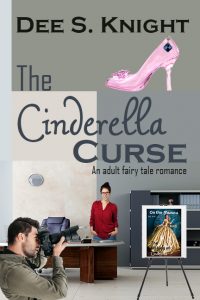 Steam Level: (Ranked from 1 to 5, as noted by the author): Steam Level 4
One evening, in a land far away, a wife spins a fairy tale for the amusement of her husband. It's not your typical child's tale, of course, but an adult, erotic version of the classic, Cinderella.
All of the principals are present. Charlotte Gambrell immediately recognizes Prince Charming when she meets her boss, James Clarkson. Unfortunately, the worldly Clarkson barely knows she's alive. Charlotte's two hateful supervisors make her professional life miserable by piling on the work and never letting her forget that she has employment only at their pleasure.
Everything changes when Charlotte becomes part of a magazine shoot. The photographer, Cooper Hunt, agrees to perform duties as her fairy godfather. By day, he transforms her life by revealing to the world what he already knows, that Charlotte is an exquisite beauty. By night, he transforms her universe by teaching her about passion so she can attract her dream man, James. The "real" Cinderella never had it so good!
By the time Charlotte arrives at the ball, she has James on her mind and Cooper in her heart. Which man will prove to be her real Prince Charming?
Available on KU
Get The Cinderella Curse at Amazon
Have you read this book or another by this author? Tell us about it in the comments!
All information in this post was provided by the author and is not altered. We do this so that you the reader can decide to buy a book based on what the author says and how they present themselves and their book.