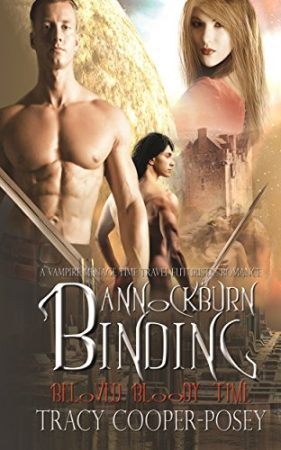 Steam: Steam Level 5
Time is theirs to keep. But it comes with a price.
In the early 23rd Century, vampires learned how to travel back in time, and created a time-tsunami that threatened life as we know it, until they corrected their mistake. They created the Chronometric Conservation Agency, tasked with preserving history and protecting humanity's future. The Touring arm of the Agency offers trips back into the real past, with vampire guides called travelers.
When Natalia (Tally) Marta, vampire and traveler, takes her client to visit the siege of Stirling Castle in 1314, she is caught and held hostage by Robert MacKenzie, a Bruce clansman. Rob is drawn to the wilful, stubborn and very different English lady and their relationship becomes an intimate, highly-charged sexual pairing. Tally and Rob realize their bond is more than sexual, that the emotions stirring their hearts are true.
Christian Lee Hamilton, vampire, one of the last true southern gentlemen, and Tally's ex-lover, knows the 1314 time marker well enough to jump back and help Tally return home. His arrival at Bannockburn adds complications, for Christian finds himself drawn to Rob MacKenzie as much as Tally is. But neither of them can stay in the past forever. To do so means certain death.
READER ADVISORY: This vampire ménage time travel romance contains two hot, sexy alpha heroes, frequent, explicit and frank sex scenes and sexual language. It includes heart-stopping sexual scenes between the aforementioned sexy heroes, ménage scenes, and anal sex. Do not proceed beyond this point if hot love scenes offend you.
No vampires were harmed in the making of this novel.
These are continuing characters and storylines. Reading the series in order is strongly recommended.
A Vampire Ménage Time Travel Futuristic Romance
Get Bannockburn Binding (Beloved Bloody Time Book 1) by Tracy Cooper-Posey at Amazon
Have you read this book or another by this author? Tell us about it in the comments!