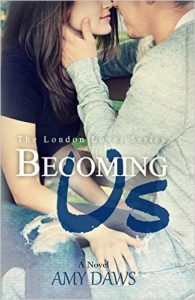 Steam:: Steam Level 4
The dreaded friend-zone…
The last place I ever want to be with college basketball God, Jake LaShae.
I am losing my mind trying to figure out what this gorgeous and confident man wants from me. I need to break through his walls. What is it about me that makes him not go there? What am I lacking?
When a mind-blowing betrayal knocks the wind out of me, and I think I can't feel any lower…Brody stumbles into my path—barefoot no less, and sexy as hell. His direct and mouth-watering swagger is a breath of fresh air. The feelings this man gives me are like nothing I've ever experienced.
But Brody has a past.
A past that makes it nearly impossible for him to trust me and let us become us in whatever capacity that may be.
Just when Brody and I truly connect, just when I think that finding my soul-mate in college isn't a total joke, Jake comes back into my life…and messes things up…possibly for good.
Get Becoming Us at Amazon
Get Becoming Us at Barnes and Noble
Get Audiobook
What format is this book in? eBook, Print Book, Audiobook
Have you read this book or another by this author? Tell us about it in the comments!