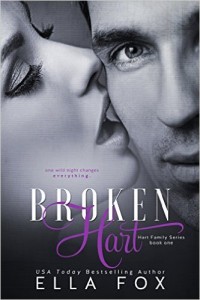 Steam:: Steam Level 4
Sabrina Tyler is head over heels in love with her boss and best friend, Dante Hart. She thinks that Dante has no romantic interest in her but she's wrong.
Dante doesn't believe in love or commitment or any kind. Sabrina has gotten under his skin, but Dante has no intention of acting on it.
One wild night changes their relationship forever, but Dante lacks faith in love and doesn't believe in Happily Ever Afters.
Can Sabrina break through and fix what's broken in Dante Hart?
Get Broken Hart at Amazon
Get Broken Hart at Barnes and Noble
What format is this book in? eBook
Have you read this book or another by this author? Tell us about it in the comments!