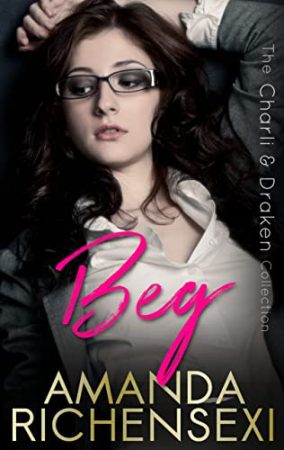 Steam: Steam Level 5
Bedroom meets boardroom in this erotic battle of wits. Blushingly hot. Deliciously dirty. Surprisingly romantic.
Speaking in front of a group of executives at Almatto Tech is a special form of torture for good girl, modest dresser, and socially awkward junior assistant Charli.
When the corporation's CEO interrupts her presentation to drawl out a lewd proposal, Charli nearly wets her pants. Draken Almatto is gorgeous, rich, fashionable…and the most cutthroat man she's ever met. Beneath his tailored suit, Draken Almatto is pure shark.
For Draken, it's not enough to erotically mortify the cute, rumpled woman with the big glasses. He has to corrupt her innocence…punish her impudence…and then discard her. He's ruthless that way.
They both know where this is going. One scorching session on the conference table, then Charli will go back to her macaroni salads and bake sales, and the Alphahole of the Century will move on to the next woman in his queue.
One bang, then he'll toss her sweet ass aside.
Eventually.
Any day now.
Domination has never been so outrageous.
Submission has never been so irreverent.
Love has never been so irresistible.
A standalone office romance with no cheating or love triangles.
To read, please be at least 18 and not triggered by juicy scenes with handcuffs, spanking, and the like. It also helps to be into robots, futuristic gadgets, hot geeks, and business suits. Avoid if you hate over-the-top alpha males, dominant billionaires, and manwhores, unless you love to hate them, in which case, step right up!
Note: All the sex in this story is explicitly consensual and causes no harm, psychological or otherwise, to its participants. On the contrary – Charli and Draken's story is an ode to love, dirty sex, and truly fantastical sex toys.
This volume contains all six novellas recounting the scorching romance of Charli Fontina and Draken Almatto:
Charli's Utterly Humiliating Presentation
Charli's Majorly Mortifying Meeting
Charli's Radically Robotic Audition
Charli's Freakishly Frenzied Monday
Charli's Scarily Good Birthday
Charli's Too-Good-To-Be-True Promotion
Get Beg: The Charli and Draken Collection (Seven Tech Tower Book 1) by Amanda Richensexi at Amazon
Have you read this book or another by this author? Tell us about it in the comments!