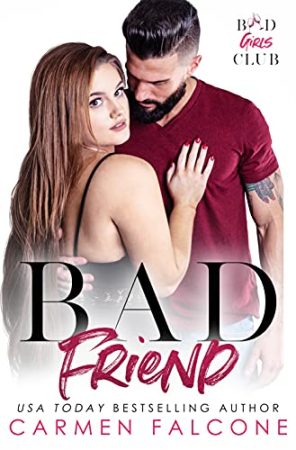 Steam: Steam Level 4
Single mom Brit wants a boyfriend, more money and a better life for her and her son—but not in this order. Knowing her track record with men, she hopes to boost her make-up artist career by attending a coveted convention. Too bad the cost is too high—unless she agrees to temporarily work for the hottest man in town, AKA her best friend's ex-husband. Nothing can go wrong, right?
Damian's life is a mess—his wife abandoned him, leaving him to balance his busy surgical career and raise their two children alone. Still, he's determined to open his charity hospital for burn victims—a promise he'd made to his mother. Overwhelmed, he proposes Brit help him get his life on track as he persuades his investor to bankroll his dream. He's got a hands-off policy with all his employees, but once nighttime falls, she becomes a forbidden temptation he can't resist.
Bad Friend is the steamy second book in the Bad Girls Club contemporary romance series. It's a standalone with a Happily Ever After. If you like swoony yet imperfect alpha heroes, sizzling chemistry, and a dash of humor, then you'll adore Carmen Falcone's hot taboo romance.
Get Bad Friend (Bad Girls Club Book 2) by Carmen Falcone at Amazon
Have you read this book or another by this author? Tell us about it in the comments!