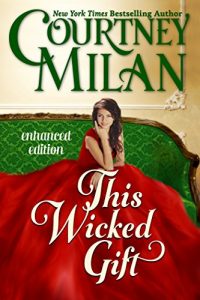 Steam: Steam Level 4
Lavinia Spencer is too poor to be anything but practical. But when her younger brother lands himself in trouble, she has no choice but to do the unthinkable. She accepts the help of the dishonorable man that she's always wanted, even knowing that it might mean her ruination…
This Wicked Gift is a novella prequel to the Carhart series. The full series is:
This Wicked Gift, a prequel novella
Proof by Seduction
Trial by Desire
This historical romance novella is an enhanced ebook. The unenhanced text was originally published in the anthology "The Heart of Christmas." This work contains pictures, audio, and author commentary. You can read this enhanced ebook on any device, but the audio content may not be accessible on all ereaders. That content has been made available on the web, so you won't miss anything if your device doesn't support audio.
Get This Wicked Gift (Carhart series) by Courtney Milan at Amazon
Get Audiobook
Have you read this book or another by this author? Tell us about it in the comments!