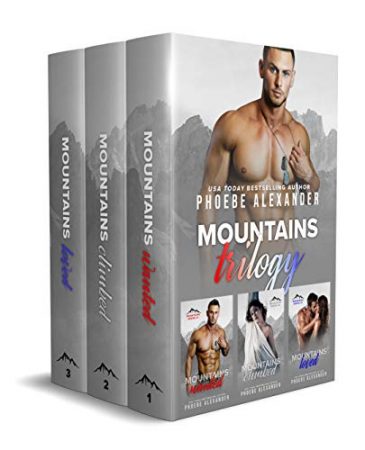 Steam: Steam Level 5
Time doesn't heal all wounds. Love does.
The Mountains Series pairs two unlikely lovers: a liberal, open-minded polyamorous college professor and a conservative, traditional, Catholic officer in the Army. Can Sarah and James climb the mountains that are keeping them apart?
Book 1: Mountains Wanted
Dr. Sarah Lynde loves sex and is not ashamed to admit it. The sociology professor and single mother of two is in the market for a new friend with benefits…not a relationship.
Army First Sergeant James McAllister never knows when the next deployment will come, but someday he wants to settle down with his true soulmate and have children. Sarah is just a diversion until that happens…right?
They think they're simply meeting each other's needs, but their undeniable connection has built a mountain with two faces: one of fiery passion and one of soul-crushing heartbreak. They just have to decide which face to climb.
Book 2: Mountains Climbed
Lt. James McAllister is deployed, but he can't stop thinking about the beautiful sociology professor he befriended before he left for his tour. No matter how hard he tries to keep her out of his mind, all he can think about is seeing Sarah when he's back on American soil.
Dr. Sarah Lynde is moving on with a new man in her life, Garrett Stone. This fiery redhead with the voice of an angel provides a needed distraction, but is it enough to stop Sarah from seeing James when he returns from deployment?
Book 3: Mountains Loved
Dr. Sarah Lynde and Lt. James McAllister are together at last, but it seems their mountain climbing days have just begun. Making decisions about their family and whether their relationship will be open or closed puts strain on the couple, while old demons and mounting grief threaten to tear them apart completely.
Is their relationship as rock solid as they thought, or will it crumble into the sea?
Author's Note: This poly romance series is intended for readers 18+. Another version of this boxed set was previously published under the title Mountains Trilogy. This edition has been rewritten.
Get Mountains Series Boxed Set: (Books 1-3) by Phoebe Alexander at Amazon
Have you read this book or another by this author? Tell us about it in the comments!