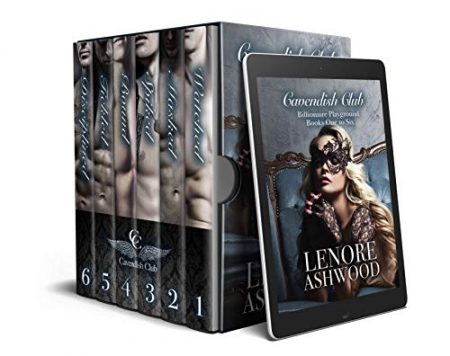 Steam: Steam Level 5
Six women and a revenge plan gone wrong. Will the men who hate to love them be too late to protect them?
They are the ultimate girl gang, running the secret Cavendish Club where biotech and psychology combine to let the ultra affluent live out their darkest fantasies.
The last thing the alpha men in their lives want is love, especially with these strong, sassy women. But when a ruthless underworld figure threatens to destroy them, the men will stop at nothing to protect the women who've won their hearts.
Step inside the Cavendish Club, the billionaire's playground where forbidden dreams come true.
Disciplined: Anya needs money for med school and stumbles into becoming a Cavendish consultant through a friend. Cavendish head of security Dimi knows she's a pawn in a game of revenge. Will he put his own goals on hold to save her?
Tickled: After years of separation, Lorna wants to finalize her divorce to the Earl of Morningshire. But even though Oliver has a new fiancé, there's something about Lorna he can't get out of his head. When she's targeted by a ruthless enemy to Cavendish, will he jeopardize everything to save her?
Bound: Sienna joins the Cavendish team to update the computer coding behind the much-coveted bio-haptics suit. She's also been hired to steal the technology. Bad boy Air Force pilot and brother to the Earl of Morningshire, Finn Lyndhurst, makes a deal—spy on Sienna and get an early release from the military. When he gets closer to Sienna than he plans, will he be able to keep his word and turn her in?
Spiked: Merrill is the genius behind the bio-haptics suit. It's her brain child, and there's no way by-the-book Interpol agent Luca is going to tell her what to do. A foiled kidnapping has Luca sneaking Merrill away to his family cabin in remote Minnesota. The more time they spend together, the more he sees past her spoiled rich girl demeanor. Will he be able to keep his distance from the feisty, sexy woman, yet keep her safe at the same time?
Masked: Kensley and Ellis hated each other back in college when he was her law T.A. Their passion burned bright for one night before she disappeared. That didn't stop her from getting him fired. Fast forward, and Ellis has the perfect client who will bring down Kensley and Cavendish Club. But when Kensley is rushed to the hospital and has nowhere to go, he grudgingly lets her move in. Being close to her awakens old feelings. Can he keep his heart safe from her a second time?
Watched: Yuki has a last chance for revenge—against her evil father, but also against the half-brother she dared to love. Victor is the key to Yuki's revenge, and he knows it. But he has his own plans for her. When loathing bursts into desire, will they be able to walk away from their plans for revenge to take a chance on love?
Get Cavendish Club Billionaire Playground: Box Set Books One to Six by Lenore Ashwood at Amazon
Have you read this book or another by this author? Tell us about it in the comments!