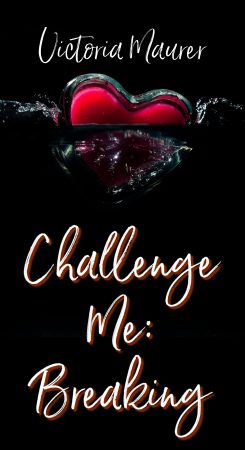 Steam Level: Steam Level 4
Category: Sports
About Challenge Me- Breaking:
This steamy adult romance is sure to please with its fun and flirty characters, slippery love, second chances, and love triangles. But, will passion be enough to save Lizzy and Jason from heartbreak?
Elizabeth Dixon greets her freshman year of college just as everyone else does: with high expectations and hope for positive new experiences. She's quickly confronted with new challenges in her social life, school work, and swim team, but her biggest challenge will be dealing with her best friend's roommate Jason—who's also her teammate.
Jason Green knows how to push all of Elizabeth's buttons and never passes the opportunity to let her know that they will never be more than teammates. That is, until one unexpected kiss after practice changes everything. Despite his harsh and secretive exterior, Jason has a softness when it comes to Elizabeth, but will he allow himself to open up enough to keep her by his side?
Their newfound back-and-forth relationship brings more tribulations than Elizabeth is willing to bear, and Jason's ill-temper might not be strong enough to carry the extra weight.
Will their passion for one another be enough to withstand their issues, or will heartbreak be another challenge to break Elizabeth? Find out in this highly addictive love story in which the sex scenes are spicy, the characters draw you in, and it is a fantastic story filled with moments of intense love and confusion that is too much to bear.
Purchase Print Books
Buy Challenge Me- Breaking Print Edition at Amazon
Links to Purchase eBooks
Link To Buy Challenge Me- Breaking On Amazon

Disclaimer: All information for this book was submitted by the author and is presented as is so you get to know the author and their style. Prices are subject to change.