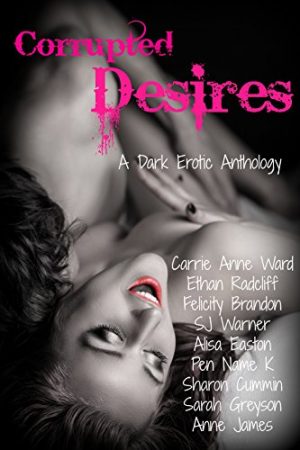 Steam: Steam Level 5
**** WARNING! ****
DARK EROTICA.
This book contains extreme BDSM, violence, graphic sexual situations, and dark supernatural and paranormal scenes. This book is only for those aged 18+. It is for those with an open mind and for those who ARE NOT easily offended.
This Halloween there will be no treats, only tricks. Tricks on your blackened mind, that is.
Corrupted Desires is not the sort of book that will have you skipping amongst the daisies and leaves you with that feel good feeling. This jaw dropping, dark erotic book will give you that prickly feeling on the back of your neck. It will send a chill right to your bones and it will most definitely mess with you head.
Allow these nine authors to show you what their definition of corruption is, as they take you down an intensely dark path to the unknown and the unfamiliar on All Hallows' Eve. Let them bring a whole new meaning to the words "bump in the night."
Get Corrupted Desires by Carrie Anne Ward, Alisa Easton, K, S.J Warner, Ethan Radcliff, Sarah Greyson, Sharon Cummin, Anne James, Felicity Brandon at Amazon
Have you read this book or another by this author? Tell us about it in the comments!