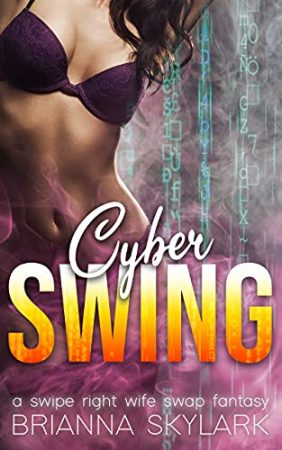 Steam: Steam Level 5
A witch, a stuntman, a barbarian huntress and an officer? Halloween gets kinky as Mia and Ryan step into the world of swinging in Cyber Swing.
Mia has a secret desire, one that she's never told anyone. Not even her husband, stuntman Ryan Dalton. But when the spectacularly mismatched couple are invited to a decadent Halloween wedding reception at an old theatre, Mia's imagination is set aflame through a naughty encounter with her best and closest friend.
With her darkest secret out in the open, she and her husband embark upon a journey of self-discovery and trust that should – by all rights – tear them apart… or will it bring them closer together, in ways they never thought possible?
It all starts, with a simple swipe…
Get Cyber Swing: A Swipe Right Wife Swap Fantasy (First Time Swingers) by Brianna Skylark at Amazon
Have you read this book or another by this author? Tell us about it in the comments!