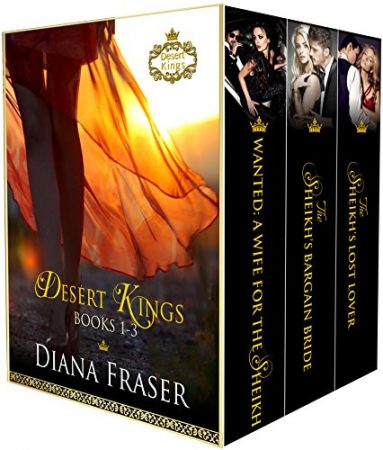 Steam: Steam Level 4
Escape to the land of the Desert Kings with this boxed set containing the first three books in the series:
Wanted: A Wife for the Sheikh
The Sheikh's Bargain Bride
The Sheikh's Lost Lover.
You'll find powerful sheikhs, strong women, and mystery and intrigue. Pour a glass of something long and cool and sit back and enjoy the heat and passion which await you in the land of the Desert Kings.
Wanted: A Wife for the Sheikh (Desert Kings #1)
Crown Prince Malek of Sumaira needs the respectability of a wife—fast. Or at least his country does. And his new PA is happy to help him find one. After looking after her sick mother for years, the last thing Sophie wants is to be tied down. But will the idea of being tied down by this Michael Fassbender clone become an obsession she needs to get out of her system before it's too late?
The Sheikh's Bargain Bride (Desert Kings #2)
The ultimate controlling sheikh, Zahir Al-Zaman is so obsessed with freedom-loving Anna Whitman that he traps her into marriage. But he won't force her into his bed; he has his strategies for seduction. Despite an intense attraction, Anna refuses to be seduced because she won't have a relationship based on lies. But how can she reveal secrets that will destroy the beliefs he holds most dear?
The Sheikh's Lost Lover (Desert Kings #3)
When commitment-phobe Lucy finds herself falling for the King of Sitra, she wants to run. But she can't. He's her only clue to her missing sister. Razeen is determined to do his duty as King, even if it means an arranged marriage. But he has two weeks before he has to choose a wife. Two weeks in which to have an affair with Lucy. What could go wrong?
Get Desert Kings Boxed Set: Books 1-3 by Diana Fraser at Amazon
Have you read this book or another by this author? Tell us about it in the comments!