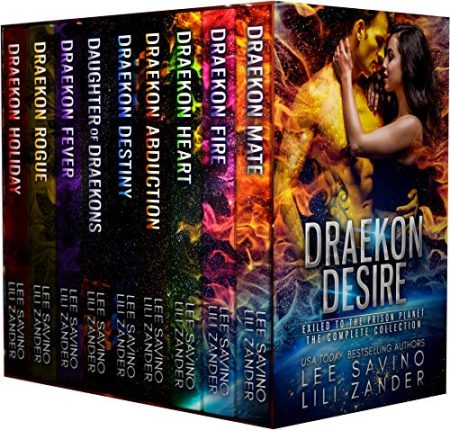 Steam: Steam Level 5
We are Draekons. Dangerous, fire-breathing dragon shifters.
For the safety of the galaxy, we've been exiled to a prison planet.
Then a spaceship carrying human women crashes into our lives.
The instant we lay eyes on them, we know.
They are our mates. Ours to protect. Ours to cherish.
Ours. Forever.
EXILED TO THE PRISON PLANET – THE COMPLETE COLLECTION: 1000 + pages of exciting, heart-pounding, panty-melting alien dragon shifter menage romance.
Seven snarky heroines. Fourteen smoking hot Draekons. The adventure of a lifetime.
No cheating. No cliffhangers. HEA guaranteed!
SEVEN COMPLETE NOVELS. TWO BONUS NOVELLAS.
Includes:
Draekon Mate
Draekon Fire
Draekon Heart
Draekon Abduction
Draekon Destiny
Daughter of Draekons
Draekon Fever
Draekon Rogue
Draekon Holiday
Get Draekon Desire: Exiled to the Prison Planet: The Complete 7 Novel Collection (Draekon Collection Book 1) by Lili Zander, Lee Savino at Amazon
Get Audiobook
Have you read this book or another by this author? Tell us about it in the comments!