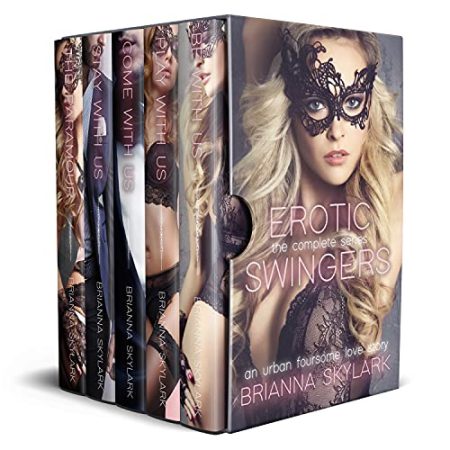 Steam: Steam Level 5
Five deliciously naughty novels filled with saucy swinger fun, and filthy forbidden romance.
Indulge in the carnal temptations of Emilia, Cassian, Amy and Mark as they embark on a wild, romantic and deeply erotic adventure into the world of swinging, decadence and unconventional love.
༻❁༺
Be With Us – Two hot couples, one skin-tingling night of passion
When Emilia and Cassian's hearts are tempted by fiery redhead Amy and her dominant bodyguard husband Mark at a decadent masquerade ball, lust turns into infatuation and an unexpected crush creates heartache and jealously, complicating an exhilarating new friendship.
Play With Us – Roll the dice. Pick a card. Choose your fantasy
Husband and wife Emilia and Cassian have invited their new friends, Mark and Amy over for dinner and a night of fun and games… with a very naughty twist. Four players. Adults only. No limits. You can never have too much fourplay.
Come With Us – Sun, sand, secrets and swinging
Our wife swapping foursome are jetting off to the Mediterranean to spend a few days in a secluded villa on a cheeky summer vacation, filled with sun, sand, secrets and swinging.
Stay With Us – Your heart grows, the more you love
Our favourite foursome are back in England following their romantic, passion filled swingers vacation abroad, and whilst the outside temperature is beginning to fall, inside it's rising fast.
The Paramour – A Romantic Victorian Ménage
A ruthless Duke, an insatiable Duchess, the innocent widow of an enigmatic Lord, and a love triangle that could bring down a monarchy.
༻❁༺
Five naughty novels filled with swinging, wife swapping, debauchery and love.
Erotic Swingers: The Complete Series contains all five books in the Erotic Swingers series:
Be With Us: An Urban Foursome Love Story
Play With Us: An Urban Foursome Game Night Fantasy
Come With Us: An Urban Foursome Vacation Romance
Stay With Us: An Urban Foursome Swingers Ménage
The Paramour: A Romantic Victorian Ménage
Containing threesomes, foursomes, moresomes, wife swapping, hotwifing, masquerade balls, Mediterranean vacations, swingers boardgames, and a romantic Victorian ménage. What more could you want for a cozy, inspirational night in, snuggled by the fire?
Get Erotic Swingers – The Complete Series by Brianna Skylark at Amazon
Have you read this book or another by this author? Tell us about it in the comments!