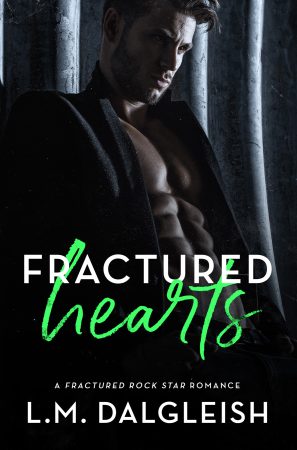 Steam Level: Steam Level 4
Category: Music/Bands
About Fractured Hearts:
Are some hearts just too fractured to repair?
Lexie Daniels lost the love of her life three years ago. Throwing herself into her work as a photographer helped her cope with the pain. But moving on? Well, she's not quite ready for that yet.
Being offered the job of official tour photographer for Fractured comes as a surprise, but not as much as the long-dormant feelings the band's sexy lead singer awakens in her. Connor is a world-famous rock star with no interest in love, but his offer of one night together might be exactly what she needs to bring her body back to life. And just one night won't risk her still broken heart… right?
Connor Byrne doesn't do relationships, let alone love. After all, he learned early on that love only leads to pain and betrayal. Who needs it anyway? As lead singer of one of the world's hottest rock bands he's got everything he wants: music, the adoration of millions, and willing women flinging themselves at his feet.
Getting to know beautiful but broken photographer Lexie might just change everything though.
And one night together? Well, that might not be enough.
But with the end of the tour fast approaching and his heart still not healed from the past, will Connor question what it is he really wants, or will he let Lexie walk away for good?
Fractured Hearts is the first book in the Fractured Rock Star contemporary romance series and can be read as a standalone. It's a steamy, angsty, slow-burn, adult love story with no cheating, no cliffhangers, and a guaranteed happily ever after (HEA).
Purchase Print Books
Buy Fractured Hearts Print Edition at Amazon
Links to Purchase eBooks
Link To Buy Fractured Hearts On Amazon

Disclaimer: All information for this book was submitted by the author and is presented as is so you get to know the author and their style. Prices are subject to change.