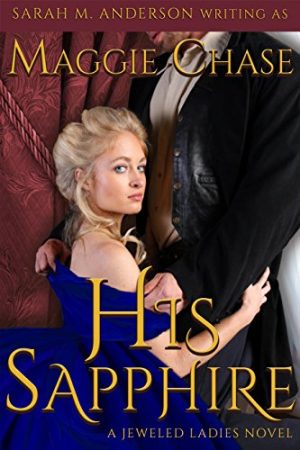 Steam: Steam Level 5
Judge Gerard Hobson believes Brimstone is his but the town refuses to bend to his will. Now someone's spreading rumors that he murdered a whore. He's lost control of his life. And although he's never visited a brothel before, he finds himself in the Jeweled Ladies, making the acquaintance of Miss Sapphire Bleu in a desperate bid to hold onto his sanity.
As Sapphire, Sadie knows the judge's type. He longs to be in control—and she longs to surrender it. But Gerard is afraid of hurting her—and more afraid of what he might become if he gives into his desires. Can Sadie show him there's nothing to fear from a little pain?
The Jeweled Ladies series by Maggie Chase will delight fans of historical westerns by Victoria Dahl, Molly O'Keefe and Vanessa Vale.
Get His Sapphire (The Jeweled Ladies Book 4) by Maggie Chase, Sarah M. Anderson at Amazon
Have you read this book or another by this author? Tell us about it in the comments!