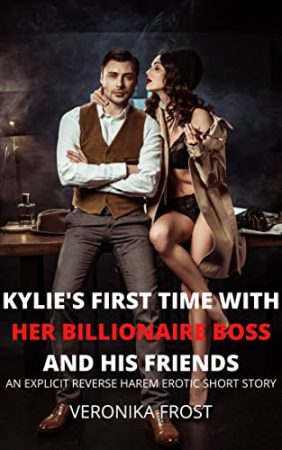 Steam: Steam Level 5
Kylie couldn't believe her luck when Grant Williams, a 37-year-old billionaire, hired her as his assistant. It was an opportunity that she never imagined would come her way, and it helped that he was hot. But, her boss seemed to have no sexual interest in her. Then, she met his friends Howard and Arnold who hinted at their raunchy sexual past. Kylie couldn't imagine anything hotter than being taken by these billionaires. She overhears them talking about ganging up on her, and Kylie is ready and willing. Grant has reservations but eventually gives in and joins in with Howard and Arnold. Kylie has never had such a sexy encounter and hopes for many more even as the line between employee and lover starts to blur.
Get Kylie's First Time With Her Billionaire Boss and His Friends (Kylie Ganged Book 1) by Veronika Frost at Amazon
Have you read this book or another by this author? Tell us about it in the comments!