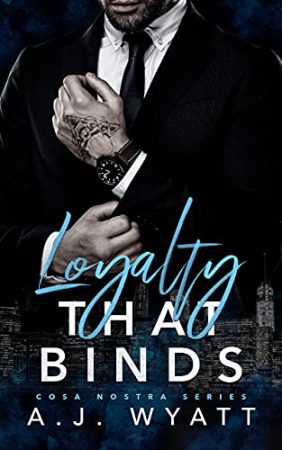 Steam: Steam Level 4
"She's everything I shouldn't want and yet I know there's no way I can stay away."
Neal Sanders
Being the Underboss has always been my life, and now I'm on my way to becoming the Don. The only thing standing in my way is a marriage I don't want to a woman I can't stand.
I'll just have to show my Uncle that there is no way I can ever be a husband.
Not to mention the woman I met a few nights ago…
I can't get her out of my mind.
And now she's here.
To stay.
Amelia Hudgens
I've always had a plan for my life. Graduate, get married and have babies. It's the dream…right?
Until I meet the dark, handsome stranger in a club I have no business being in.
He manages to capture my attention and makes me question everything.
Should I care that he's one of the most dangerous men in the city?
Should I care that I'm not from his world?
Even if I should…I can't.
It's too late.
Get Loyalty that Binds (Cosa Nostra Series #1) by A.J. Wyatt at Amazon
Have you read this book or another by this author? Tell us about it in the comments!