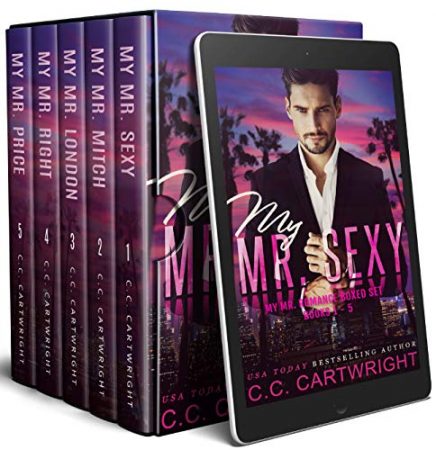 Steam: Steam Level 4
Escape into captivating romance with the My Mr. Romance boxed set.
C.C. Cartwright delivers swoon worthy romance filled with twists and turns to a heartwarming happily ever after.
You'll get FIVE full-length steamy standalone romance novels, each featuring couples taking a chance on finding love.
Over 600 reviews on the individual books!
My Mr. Sexy – Get ready for a wild and sexy ride as Marissa struggles to choose between the two incredibly sexy men to satisfy her cravings for love. Her new job lands her in a consulting firm where she meets the sexy-as-sin Nick, the attraction is instantaneous, sparks fly! Then Marissa discovers that the ever so tempting Nick is off-limits and she knows she must walk away. When player Mitch comes into the picture, Marissa's love life really heats up. Will he prove to be a satisfying distraction in this love triangle office romance?
My Mr. Mitch – Player Mitch Hamilton, practices law at one of the most prestigious law firms in the country. He only does 'casual' when it comes to the bevy of women in his life, until the smart and alluring Christy Carlisle, a new law associate catches his eye and they have to work long hours together. Will Mitch and Christy surrender to their passion for each other and find their own happily ever after?
My Mr. London – Julia's just an American girl looking for adventure in London while on a six month job assignment. She didn't expect to be mesmerized by the sinfully sexy British bad boy package up on stage. Ritchie is the lead singer for Belgravia Underground and he sets his sights on her, all he can be is British Bay Boy trouble, but maybe that's exactly what she needs. Sinfully hot and sweet Rockstar Romance.
My Mr. Right – Chloe joins her best friend Julia in her own "London Adventure". Chloe loses all of her inhibitions with the sexy Johnny Price, bassist for Belgravia Underground. But a habit of his threatens to break them apart. When Julia's boss, the successful serial seducer Tate meets Chloe, he's determined to have her, but he's built walls around his heart. Will the carefree, beautiful and sexy Chloe break down those walls and be Tate's undoing?
My Mr. Price – In this enemies-to-lovers romance Bethany has rules, one night and one night only. She's learned the hard way, the people you love, can break your heart. But she gives in to one night of unbridled passion, with the British Bad Boy, Johnny Price. But once is not enough for Johnny, he's determined to break Bethany's rule.
Expect seductive romance and always a happily-ever-after.
Don't miss these sweet and romantic reads, buy today!
Get My Mr. Sexy – My Mr. Romance Boxed Set: Standalone Romance Books 1- 5 by C.C. Cartwright at Amazon
Have you read this book or another by this author? Tell us about it in the comments!