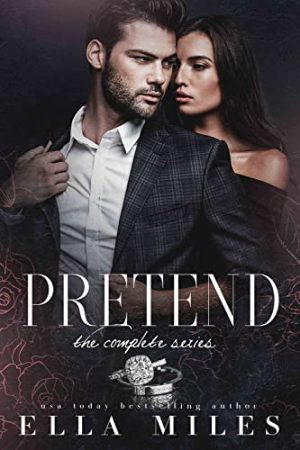 Steam: Steam Level 4
The complete Pretend trilogy in one collection!
PRETEND I'M YOURS
I'm a twenty-two-year-old virgin. Tonight that changes. I thought my first time had to be magical. The perfect date. The perfect place. The perfect guy. I thought I wanted to be in love. But now, I'm desperate. I'll take any guy as long as he's decent looking and treats me well, at least for the night. Turns out Mr. Perfect isn't so hard to find. He's hot, dreamy, and filthy rich. And he wants me. Sex with him is going to be better than I ever imagined. He's going to ruin me for all other guys. I know that it is just for one night, but it doesn't matter. I'm happy to get my perfect night. One night isn't enough, for either of us. Because Mr. Perfect just fake proposed to me. And he wants this proposal to last a lot longer than one night. Will you pretend to be my wife?
PRETEND WE'RE OVER
I'm not looking for a date. I'm definitely not looking for a husband—just one night of passion. I'm in Vegas, after all. And what happens in Vegas stays in Vegas. So how did I end up with a giant rock on that finger, you ask? Your guess is as good as mine. Now I'm stuck fake married to the biggest self-centered jerk I've ever met. We agree to keep the charade going for six months to protect our pride and dignity. We have six months to convince everyone we aren't meant to be. Should be easy. I'm sweet, kind, fun Millie. He's cynical, self-absorbed, loner Sebastian. We don't belong together. Convincing everyone we're married is the easy part. Convincing everyone we're over—that's proving more difficult. Convincing myself that we're over is proving hardest yet. I just have to remember that it was all pretend from the start. We were never together. Pretending we're over is just going back to my life before. But what if I don't want to keep pretending? Pretend We're Over is a standalone fake marriage spinoff featuring Sebastian from Pretend I'm Yours.
PRETEND YOU'RE HER
I'm not a stalker; I just don't have a plan. At least, I don't have a good plan. But I need to speak to Boden—my child's father. I'm in over my head and I need him to step up. But the second he spots me, he runs.
I chase after him, but instead of catching Boden I run face first into a stranger's chest. Turns out the stranger has an interesting proposition for me that might just fix all my problems.
All I have to do is pretend to marry him…
This is a 3 book collection of steamy, fake marriage romances.
Get Pretend: The Complete Series by Ella Miles at Amazon
Have you read this book or another by this author? Tell us about it in the comments!