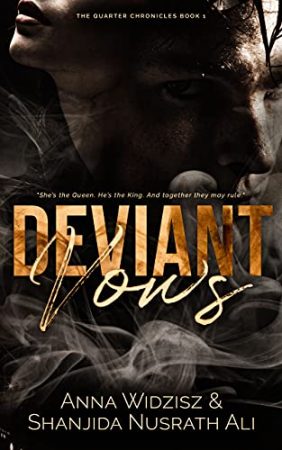 Steam: Steam Level 4
Davina
I fought for leadership, power and money. It was never given to me. I earned it. But I never thought I'd have to agree to give up half of it just to protect my people from the war I made myself. Arranging marriage to my enemy is the last thing I want. Turns out Macsen Addison – the boss of North Liverpool – is the solution to all my problems. Now I can't get out of this deal because I've made a vow.
Macsen
Sharing power has never been my forte. But when my people are getting slaughtered each and every day, things have to change. I control everything in my life, except choosing the woman I will marry. Yet there I am accepting an offer made by the queen of South Liverpool to become my wife. Turns out she's everything I admire and respect. Now I try to fight to have something real because I've made a vow.
Get Deviant Vows (The Quarter Chronicles Book 1) by Anna Widzisz, Shanjida Nusrath Ali at Amazon
Have you read this book or another by this author? Tell us about it in the comments!