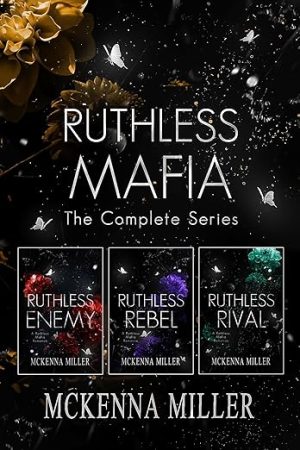 Steam: Steam Level 4
RUTHLESS MAFIA: The Complete Series
RUTHLESS ENEMY
When Lorelai promised to be mine, I never would have believed that things would end in her betrayal . . . and me spending time in prison for something I didn't do.
Now I'm out and determined to exact revenge against the woman I'd once loved, only to find out she'd been keeping a secret from me . . . a daughter I never knew I had. A daughter who belonged to me and would now be raised as a Capitani, whether her mother is in the picture, or not.
Lorelai is still feisty, stubborn, and rebellious, and after so long without a woman, I greet her with an angry, hate filled kiss. But once I feel her lush curves beneath me, all I want is to claim her once again. I tell myself the craving is temporary, that once I have my fill of her I'll sever our ties and keep my daughter with me. . . but I've underestimated just how much of a hold this woman still has over me.
The plan should have been simple, until my daughter is kidnapped and held hostage – my life, for hers.
Nobody messes with what is mine.
This means war, and I will destroy anyone who dares to threaten my family.
RUTHLESS REBEL
My brother started a war that put me squarely in the enemy's territory.
It was all about finally exacting revenge for our family, but the plan required me to give my false allegiance to a hated Vivenzo. In return for this new alliance, I was gifted Luca's one and only daughter, Dia, as collateral until we'd both proven our loyalty to one another.
The only thing I intended to prove was that the Vivenzo family was meant to suffer and die for killing our father.
But first, I had to integrate myself into their world, and Dia was the perfect pawn to make that happen.
Sleeping with the enemy's daughter was never part of the plan, but Dia Vivenzo was an irresistible siren despite us being enemies—and, I later learned, an assassin who had every intention of killing me once I'd given her father all the information he needed to take down my family once and for all.
Good thing I planned on killing her first.
Both our families intended to wipe out the other, and only one would survive the war.
But what will happen when the one woman I should hate the most becomes the one I can't live without?
RUTHLESS RIVAL
As the only daughter in a Mafia family, I always knew the possibility existed that I'd be part of an arranged marriage, but I never expected to be given to a man I hated by his name alone.
Kai Vivenzo was our families greatest rival, a man I'd been taught to despise, and if he expected me to be a passive and dutiful wife, he was in for a huge surprise. All I wanted was freedom from this ruthless life I'd been born into, even if that meant severing all ties with my family.
I was stubborn and strong-willed, but what I didn't anticipate was Kai's power of seduction. Even when I chose to escape this sham of a marriage and ran off in the middle of the night to start a new life for myself, he chased me and found me, breaking down my resistance and making me his, again and again.
The next morning, I woke to a simple note from him: Until the next time I catch you.
What ensued was a steamy, delicious game of cat and mouse . . . until the day I was abducted, and not by Kai, but his enemy who planned to use me in his own plan of revenge against my fiancé.
I just hoped I was worth more to Kai alive, than dead.
Get Ruthless Mafia: The Complete Series by Mckenna Miller at Amazon
Have you read this book or another by this author? Tell us about it in the comments!