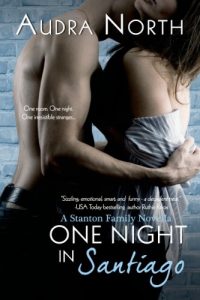 Steam: Steam Level 5
Lily Stanton's vacation goes from bad to worse when a storm strands her in a foreign country, arguing with an arrogant—and very sexy—stranger over the last available hotel room.
Successful CEO Bruno Komarov wasn't expecting the gorgeous woman checking in at the reception desk to challenge him over a room. Even more surprising, he actually enjoys their exchange.
But when Lily proposes a compromise—she'll take the bed and he can sleep on the couch—Bruno pushes his attraction aside and assures himself that this can remain strictly business. After all, they're both adults capable of keeping their hands to themselves. They'll share the room, get a good night's sleep, and be off to their respective destinations in the morning.
What could possibly happen in just one night?
Each book in the Stanton Family series is a standalone, full-length novella that can be enjoyed out of order.
Get One Night in Santiago (Stanton Family Book 2) by Audra North at Amazon
Have you read this book or another by this author? Tell us about it in the comments!